Kimberly Deveau's six-year breast cancer journey has been a rocky one, but it resulted in at least two blessings: five-year-old Liam and four-year-old Eliza.
"Because of the BRIGHT Run, my children, Liam and Eliza, are just two little miracles that the Juravinski Cancer Centre made possible," says Kimberly, whose chemotherapy ended last year. "They saved my life not once, but twice."
Kimberly, 41, is originally from Hamilton and now lives in Port Dover with husband Jeremy Deveau and their two children. A floral designer, she was diagnosed with left breast cancer Nov. 9, 2011. On Dec. 14, 2011, she underwent a lumpectomy and sentinel node biopsy.
In February 2012, Kimberly found out she was 16 weeks pregnant. She had undergone her surgery at 10 weeks pregnant. Treatment was put on hold until after the baby was delivered. Although abortion was discussed, the couple declined.
Liam was born June 28, 2012 and Kimberly started on Tamoxifen that July. Her radiation therapy began in August. By December, Kimberly was off Tamoxifen because the side effects outweighed the benefits.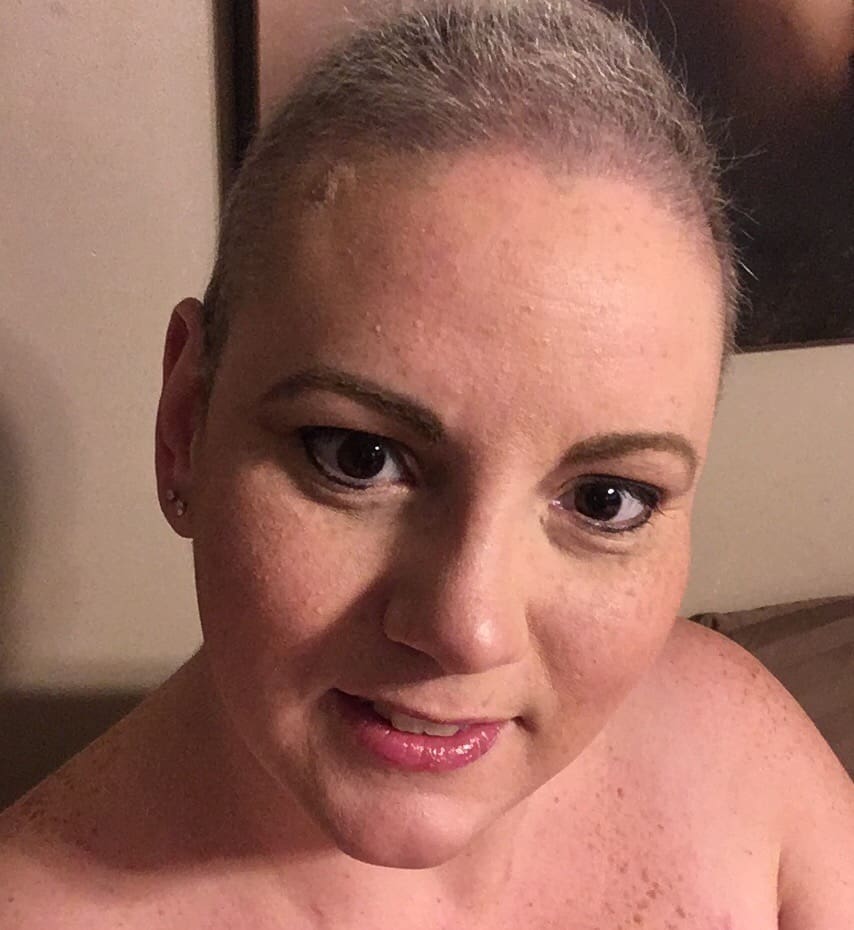 In April 2013, Kimberly was declared cancer free and she found out she was pregnant. Eliza was born Dec. 9, 2013.
Jeremy arranged for the two to renew their wedding vows in the chapel at the Juravinski Hospital. He chose the venue because "that's where they saved my life," Kimberly said. The ceremony took place Sept. 19, 2014.
In May 2015, Kimberly underwent breast reduction surgery to even out her breasts. By February 2017, she had another surgery because she wasn't happy with the results of the previous reduction surgery. The pathology report from the second surgery showed a tumor of unknown size had been cut during the surgery. She had a double mastectomy in March 2017, started chemotherapy in May 2017, followed by Taxol treatments.
Kimberly suffered many infections and set-backs during chemo and finally finished her Taxol on Oct. 2, 2017. She is currently on Herceptin and Tamoxifen.
Her feelings about the JCC led to her interest in the BRIGHT Run.
"I've witnessed first-hand the miracles that the Juravinski Cancer Centre is able to perform on a daily basis," Kimberly said. "With so much support coming from the BRIGHT Run, I found it difficult to not become involved."
She hopes to one day get back to her passion of floral design and to work to raise funds for cancer support services in Port Dover.
"I've been so lucky with my journey and I know I'll beat this again," said Kimberly, who will participate in her first BRIGHT Run this year. "But I also know others haven't been so lucky. I've lost both my parents to different cancers in the last two years, so I understand what other families are going through.
"If there's anything I can do to help raise awareness or funds for research, I'm doing it!"
This profile was first published in the BRIGHT eNewsletter in January 2018.