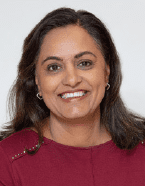 Every year, scientists from around the globe present their research at the San Antonio Breast Cancer Symposium. This year's conference highlighted the results of many important research studies. Medical oncologist Bindi Dhesy, a founding member of the BRIGHT Run executive committee, attended the conference virtually late last year. This is her discussion of a few of these trials. 
-One of the common concerns of young women diagnosed with breast cancer is if they can safely interrupt their hormone treatments to become pregnant. The POSITIVE trial looked at this very important issue. 
This study found that women aged 42 and younger with early stage ER positive breast cancer could pause their hormone treatments after surgery with no increased risk of recurrence. The study results are still early but provide important data that oncologists can use to counsel young women regarding the safety of pregnancy. 
-For women with very high-risk ER+ breast cancers,* the MonarchE trial showed that the addition of abemaciclib, a new class of drug called CDK4/6 inhibitors, to hormonal therapy after surgery reduces cancer relapse by over 6% compared to hormone therapy alone.
A CDK 4/6 inhibitor, such as abemaciclib, disrupts cell growth and division by preventing certain proteins from telling the cell that it needs to grow and divide to make more cancer cells. These drugs are already commonly used for patients with metastatic breast cancer and extend how long patients are living with stage IV disease.
-An important test to determine which patients may benefit from chemotherapy is the Oncotype-Dx 21-gene recurrence score. Twelve-year updates of the TAILORx trial show that the use of the Oncotype-Dx 21-gene recurrence score continues to provide important information.
In the presentation, those women with a score of 0 to 25 who were postmenopausal or older than 50 when diagnosed with ER- positive, HER2-negative and lymph node negative breast cancer may be safely treated with hormone therapy alone after surgery. 
-HER2 positive metastatic breast cancer can be particularly aggressive and this year's conference updated several trials evaluating trastuzumab- deruxtecan (Enhertu). This drug offers improved results compared to the previous treatments and should be standard once initial treatments stop working.
New studies also suggest that some patients with HER2-low expression tumours may also benefit from this drug. (Low-expression tumours look almost normal under a microscope.) This is going to be an important area of research to watch as it opens up the possibility of using this drug to benefit many more patients.
It was also very gratifying to see studies evaluating the racial disparities and differences in breast cancer outcomes. There continues to be a need to ensure that recruitment to cancer trials includes patients from all demographics so that care can be improved for all.

* defined as four or more positive axillary lymph nodes, or those with 1-3 lymph nodes, high grade or larger tumour size, and high proliferation