Become a Community Partner
"Alone, we can do so little; together we can do so much." – Helen Keller
The BRIGHT Run believes that every investment made will build a stronger future for the community in which we live and participate. Aligning with community partners ensures that, together, we can support in ways that we couldn't as individuals.
In the mutual alignment to support the needs of the community, our partners are ensuring that the support needed to make the yearly BRIGHT Run continues. Their dedication is acknowledged and seen throughout the community.
The funds received from our community partners go directly to purchase the basics required to organize and host the annual BRIGHT Run event. This means that 100% of the money raised by the participants goes directly to research.
Together, the BRIGHT Run and our community partners support the continuing overall improvement of health in the area of breast cancer research where we all live, work and thrive.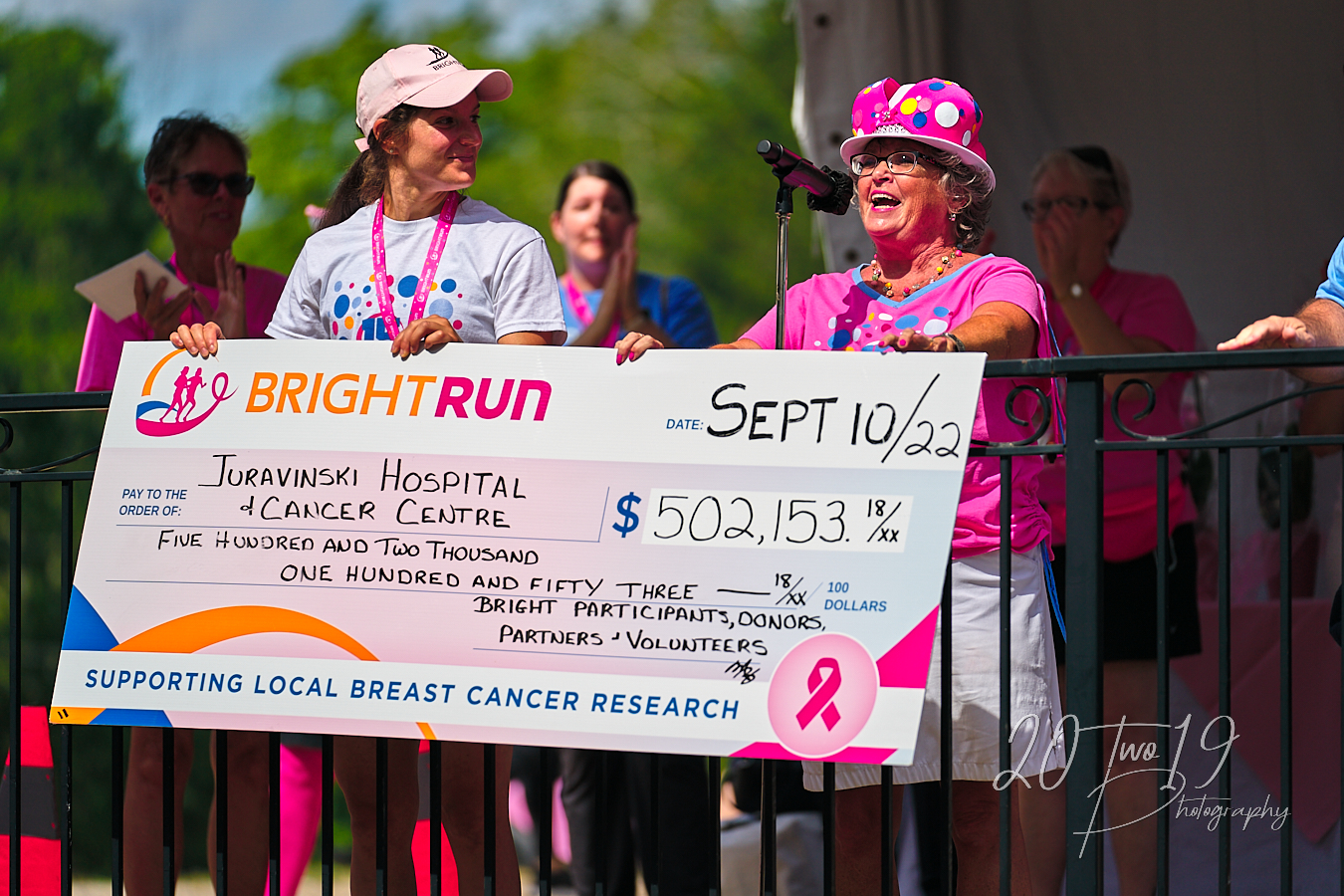 Why Become a BRIGHT Run Community Partner?
We are LOCAL
Local participants support the local cancer centre. The money they raise funds research at Hamilton's Juravinski Cancer Centre and McMaster University.
We Support Research
BRIGHT has funded 17 local research projects, covering areas such as symptom management, surgical intervention, prevention, genetic predisposition.

BRIGHT has partnered with McMaster University to endow the BRIGHT Run Learning Health System Chair. The first holder of this permanent position, Dr. Ashirbani Saha, will apply artificial intelligence and machine learning to improve screening, diagnosis, treatment and outcomes for people with breast cancer.

PYNK Program was established in Sept 2022 in partnership with the Jesin-Neuberger
Foundation to focus on the unique needs of young people under 40 diagnosed with breast
cancer. JCC is home to only one of three such program in Ontario.
We are for Everybody
All ages, stages and abilities are welcome to walk, run, or stroll a 1K or 5K route. Leashed dogs are also welcome to join us for a day of community and celebration.
We Need our Community Partners
Our community partners provide direct financial support to cover event organizing and hosting costs, as well as discounted and/or complementary goods and services. Because of those valuable contributions, every dollar raised by our participants goes directly to research.
We Get Things Done
More than 1,400 participants and 200 volunteers attend each year to make the BRIGHT Run an exciting and inspiring event. Since the first BRIGHT Run in 2008, we have raised more than $5.5 million to support research in our community.

Even during COVID-19, BRIGHT Run thrived. Our 2020 and 2021 virtual events raised $333,000+ and $367,000+ respectively.

In 2022 we had our biggest fundraising year to date, with over $515,000 raised!
Let's talk about how your organization can become part of the BRIGHT Run. 
Please contact Michele, BRIGHT Run Community Partner Committee, and she will get back to you shortly.
To learn more about our Community Partner packages, click the button below
Stay up to date
On all BRIGHT Run news and events. Sign up now to receive the monthly eNewsletter!