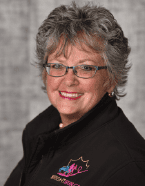 Read More
Nancy McMillan is a retired banking professional, having spent 33 years in branch and private banking. She is also a breast cancer survivor, "graduating" from what she calls the Juravinski Cancer Centre breast cancer survivor (BCS) program in 2008.
Nancy has participated in every BRIGHT Run since the first one in 2008. Her team, McMillan's Madcaps, is consistently one of the top-ranked fundraising teams.
As the BRIGHT Run's event chair, Nancy is a whirlwind of activity and ideas. She works hard to make the BRIGHT Run the best experience it can be for participants, volunteers and community partners.
In 2013, Nancy was named a Hamilton Woman of Distinction in recognition of her volunteer involvement with the BRIGHT Run.
Nancy says chairing the BRIGHT Run is "a real honour for me and an opportunity to pursue my true passion. BRIGHT Run energy is my jet fuel."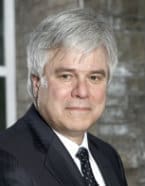 Dr. Mark Levine
Medical and Research Advisor
Read More
One of the founders of the BRIGHT Run, Mark Levine was invested in the Order of Canada in 2017 for "his contributions as an oncologist, researcher and clinician who has developed a number of new treatment regimens that have become the Canadian standard in clinical practice."
With a career spanning more than 35 years, Mark saw in his clinics that for many breast cancer patients, participating in an organized run was part of their healing Journey. After treatment left them weakened physically and emotionally, Mark realized that training for and participating in such an event was empowering and exhilarating for patients.
He believed a local event was important because it would raise funds for breast cancer research in Hamilton. Although he has retired from clinical practice, Mark remains an active member of the BRIGHT Run executive committee and writes for the BRIGHT Run's monthly eNewsletter.
"BRIGHT Run is a passion for me. As one of its founders, I am blessed to be able to continue to participate each year in this wonderful community event."
Advertising, Marketing and Communications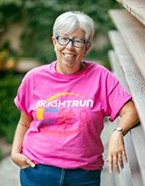 Lee Prokaska
BRIGHT Run eNewsletter Coordinator
Read More
Lee Prokaska retired from The Hamilton Spectator in 2015, after 35 years as a reporter, editor and editorial writer.
She is also a breast cancer survivor who participated in the first BRIGHT Run, which took place almost three years after she finished her breast cancer treatment.
Retirement gave Lee the opportunity to become more involved in the BRIGHT Run, taking on responsibility for the content of the BRIGHT Run's eNewsletter. She also writes about the BRIGHT Run and its people for area newspapers and helps BRIGHT Run members write speeches, articles and letters.
More recently, Lee became the coordinator of the BRIGHT Run's successful annual silent auction, as well as putting together gift baskets for the penny sale.
"I love the BRIGHT Run's sense of community, its welcoming spirit and its commitment to making a difference."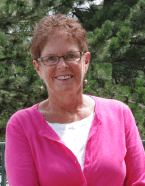 Kathie Ward
BRIGHT Run Event Day Coordinator
Read More
"Funds raised through event day are critical in funding some of the pivotal initial investigations that go on to form the basis for larger grant applications nationally."
Kathie Ward – Event Day
Kathie is a registered nurse who retired in 2018 after 44 years, the last 16 or so as a member of the breast disease site team at the Juravinski Cancer Centre (JCC).
She is also a breast cancer survivor who says her 1998 diagnosis changed her life. She formed intense lifelong friendships after joining a dragon boat team of breast cancer survivors. And after years of intensive care nursing, she moved to the JCC, caring for cancer patients every day.
Those patients wanted a local event, a way to pay it forward to the cancer centre where they received treatment. Kathie sees the BRIGHT Run as her extended family and she loves the electric atmosphere of event day. She was one of the founding members of BRIGHT Run in 2008.
"They wanted an event in our city, rather than having to go elsewhere to do walks and fundraising," Kathie said. "That's how it started."
David Balsdon
BRIGHT Run Event Day Coordinator
Read More
Over the years David has participated in all but two BRIGHT Runs along with his family. A Waterdown resident, he and his wife Lisa have two daughters, both of whom are graduates of McMaster University.
Breast cancer plays a huge roll in the family. Lisa, is a Radiation Therapist at the Juravinski Cancer Centre and is also a breast cancer survivor. Her mother is also a survivor. Their oldest daughter is also a Radiation Therapist, currently practicing in Calgary. Lisa, David and family are members of the Linear Accelerator team.
A long-time community volunteer and event organizer, David joined the executive committee to co-lead the event day planning and execution process.
"I am able to leverage my experience as a marketing executive and avid runner to help create an event that brings our community together and raises funds for this amazing cause. I am proud to be associated with the BRIGHT Run and everything is stands for."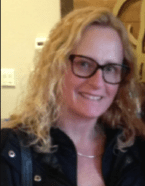 Lisa Rudd-Scott
BRIGHT Run Event Day Coordinator & Secretary
Read More
Lisa Rudd-Scott is a Registered Nurse working for McMaster University with the Ontario Clinical Oncology Group in cancer research where she met Nancy and was inspired to get involved with the BRIGHT Run.
Lisa began volunteering for BRIGHT several years ago assisting at community events and during the run ensuring runners are safe crossing roads at Dundas Valley. Most recently Lisa assembled her nursing friends and family to support the first aid tent during the BRIGHT Run.
Her gifting of the organization keeps all members of the executive informed and accountable.
Funding breast cancer research is crucial as we move forward in medical advancements in the diagnosis and treatment of breast cancer.
"BRIGHT for me is important because all funds raised stay locally at the JCC.
I choose to support /volunteer for BRIGHT as there have been some incredible advances in breast cancer care and treatment directly because of BRIGHT funding."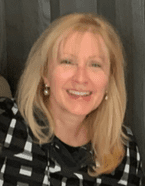 Michele Mandryk
BRIGHT Run Community Partner Coordinator
Read More
Michele Mandryk joined BRIGHT in 2020 with multi-disciplinary experience as the Sourcing Manager of Purchasing at ArcelorMittal Dofasco in Hamilton, and has had various progressive roles at the company for over 35 years.
She was an active member of the ArcelorMittal Dofasco Corporate Community Investment Fund for more than six years, three of those as Chair overseeing its mandate in investing in the Hamilton community by funding projects in fields of health, education, the arts and environment.
Michele and her husband have been members of a local volunteer-based charity that aims to attain greater food access and distribution to lower-income communities.
Cancer has had an impact on Michele's family, friends and colleagues. There has been much sadness and also moments where, through the support of organizations such as BRIGHT, there is hope with improved programs.
"BRIGHT is where I feel that the focus of time and energy has potential to make a positive impact in our community. I look forward to working with a talented and multi-faceted team, lending support, and being part of a greater outcome directed at reducing the impacts of breast cancer."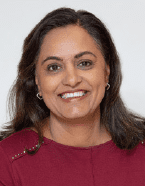 Dr. Bindi Dhesy
BRIGHT Run Community Partner Coordinator
Read More
Bindi, a medical oncologist at the Juravinski Cancer Centre, has been involved in the BRIGHT Run since it was "a twinkle in our eyes," recognizing the importance of the event's support for local breast cancer research.
Bindi was named the 2015 Outstanding Clinical Teacher of the Year in Medical Oncology and was appointed as Associate Chair, Education in the Department of Oncology the same year.
As the Department Education Coordinator since 2012, Bindi was deeply involved in all areas of education for faculty and has worked to support and develop the postgraduate and fellowships programs.
Bindi and her family are part of the Cancer Busters team and have participated since year one. Many of the Dhesy family members travel from across the GTA to help support the Juravinski Cancer Centre.
"Funds raised through the run are critical in funding some of the pivotal initial investigations that go on to form the basis for larger grant applications nationally."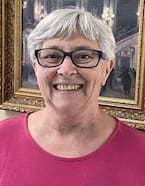 Colleen Ionson
BRIGHT Run Volunteer Committee Coordinator
Read More
Retired RN Colleen Ionson is a two-time breast cancer warrior and a long-time BRIGHT Run volunteer and participant.
Colleen retired in 2013 after 35 years in nursing. Her clinical practice was psychiatry, followed by several years of labour relations with the Ontario Nurses' Association.
She was first diagnosed with left-side breast cancer in 2009, then again – on the right – in 2019. Her treatment involved surgery followed by radiation.
Colleen says the BRIGHT event is energetic, inspirational and supportive. She loves that BRIGHT is solely run by volunteers and all funds raised by
participants stay in Hamilton.
"The BRIGHT Run participants, their family, friends and volunteers shine the
light on breast cancer through their fundraising efforts allowing the
exceptional research to continue right here in Hamilton."
Teams, Registration and Fundraising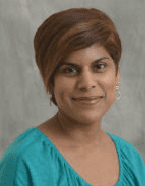 Michele Cardoso
BRIGHT Run Engagement Coordinator
Read More
Michele Cardoso is a clinical specialist radiation therapist at Juravinski Cancer Centre (JCC) and has worked at Hamilton Health Sciences (HHS) since 2001.
Michele is also a recipient of the Pat Mandy Diversity Award, an annual award that honours an employee who embodies the HHS values of respect, caring, innovation and accountability.
Her involvement in the BRIGHT Run began several years ago when one of her colleagues encouraged her to participate. Once she experienced the BRIGHT Run for herself, she jumped right in, joining the executive committee and the sponsorship committee. Michelle is also a Radiation Therapist and proud member of the Linear Accelerator team.
Michele sees the BRIGHT Run as "a celebration of the tenacity of the human spirit, our ability to triumph, to love and to remember."
Stay up to date
On all BRIGHT Run news and events. Sign up now to receive the monthly eNewsletter!