JOIN US FOR OUR 16TH ANNUAL EVENT!
Saturday, September 9th, 2023
JOIN US FOR OUR 16TH ANNUAL EVENT!
Saturday, September 9th, 2023
RIGHT RUN 2022 – NEED TO KNOW
After two virtual years, BRIGHT Run #15 returned to the original in-person format. We couldn't have been happier! Here is some of the info that participants needed to know for their event day planning:
Bring
Rain gear, regardless of the forecast. Also, protect all electronic devices; resealable plastic bags work well.
A hat, sunscreen and water bottle, as well as a backpack to carry your stuff, plus any purchases you make on-site.
Some cash and credit/debit cards. There will be food and pink merchandise available for purchase, and you may be the highest bidder on some silent auction items.
A wagon or stroller for young children.
Your leashed, well-behaved dog. Remember to bring some poop bags too.
Don't Bring
Feather boas. They shed feathers that harm the conservation area's natural environment. Try leis instead.
Bicycles, roller blades, skateboards or scooters. Only medical mobility devices are permitted.
Parking
There is parking on-site at the Dundas Valley Conservation Area on a first come, first served basis.
Watch for our parking attendants at the front gate for instructions.
If you are not able to get a spot on-site, don't worry. We have lots of parking at Sir William Osler Elementary School (330 Governor's Road) and Dundas Valley Secondary School (310 Governor's Road). There will be free shuttles running from 9:00 a.m. until 2:00 pm to get you to and from the trail centre pathway.
For patrons with Ontario Disability permits, we have reserved a number of spots on-site at the Dundas Valley Conservation Area. We also have golf carts to help you travel from the main parking lot to the trail centre.
Stuff To Do
Check in at the registration area beside, hand in your paperwork and pick up your event t-shirt.
Visit the exhibits, children's tent, silent auction, and pink gear tent.
Get your picture and team picture taken.
Keep an eye out for some surprise visitors!
Safety Notes
Masks and hand sanitizer will be available at a variety of locations on site. Be considerate of others during your walk, run or stroll. We want everyone to have a fun day.
First aid volunteers (healthcare workers and nurses) will be strategically positioned along the trails as well as in the first aid tent. First aid responders can be identified by their light blue volunteer t-shirts as well as a black or blue backpack with the red first aid logo.
We can't wait to see you in 2023! Let's have some BRIGHT, pink fun!
FYI – TAKE A LOOK BACK AT THE 15TH ANNIVERSARY BRIGHT RUN EVENT DAY PLAN
September 10, 2022
Registration Area Opens
Morning beverages available compliments of Café Domestique of Dundas
Silent Auction & Pink Gear/Penny Sale Tents Open
Check out the team photo area and the SmartBooth Images photo booth
Entertainment Begins
Enjoy Craig Murray of Kickin' Strings, with guest artist David Balsdon
Open Ceremonies – Celebrate BRIGHT Run!
Hosted by Sunni Genesco of BOUNCE 102.9
Guest speakers include survivor spokesperson Gerri Nyman, Dr. Mark Levine, BRIGHT Run chairholder Dr. Ashirbani Saha, Victoria Mancinelli from LiUNA and Juravinski Cancer Centre VP Neil Johnson
Warm up with Anne Marie Collingwood and the YWCA ENCORE program
Ribbon Cutting
Hit the trail! Walks head left and runners head right
Walk/Run Ends
When you've finished your walk/run/stroll, enjoy lunch, available for purchase from Big Smoke Burger Brantford
Silent Auction Closes
Closing ceremonies hosted by Annette Hamm of CH Morning Live and Dr. Ian Dayes
Cheque presentation, volunteer recognition, the announcement of top fundraisers in the youth, team, survivor and participant categories
Following the closing ceremonies, stay a while and enjoy the BBQ
Shuttle Service Ends
Shuttle service to off-site parking lots ends
A TYPICAL BRIGHT RUN DAY
There is a special spirit at the BRIGHT Run, an exhilarating feeling of excitement, hope and inspiration. It's the day when we all come together after months of fundraising, it's the day when the BRIGHT family shines its brightest. So get your pink on for the best BRIGHT day of the year.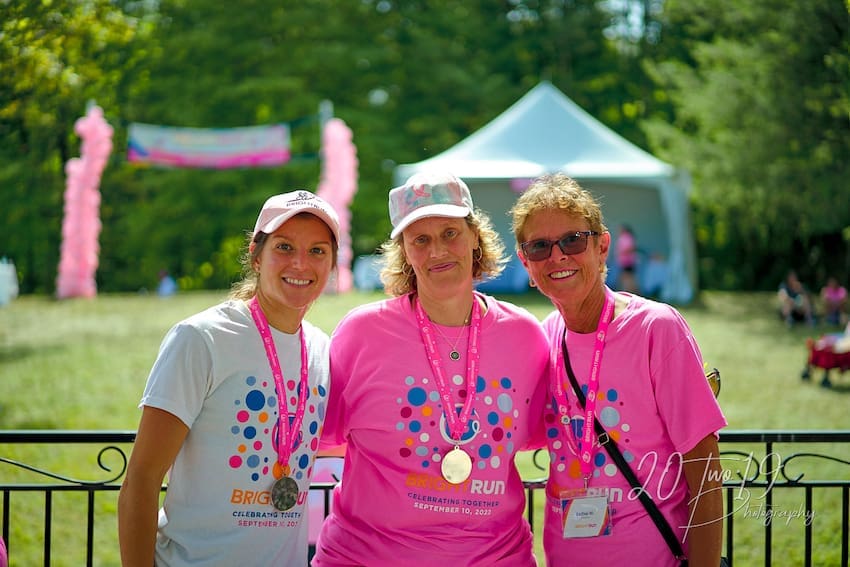 HERE'S WHAT YOU NEED TO KNOW
Before Event Day
Give your fundraising one last push by asking family, friends, neighbours and coworkers to sponsor you.
Keep your eye on your email leading up to Saturday, September 9th, 2023 for event details!