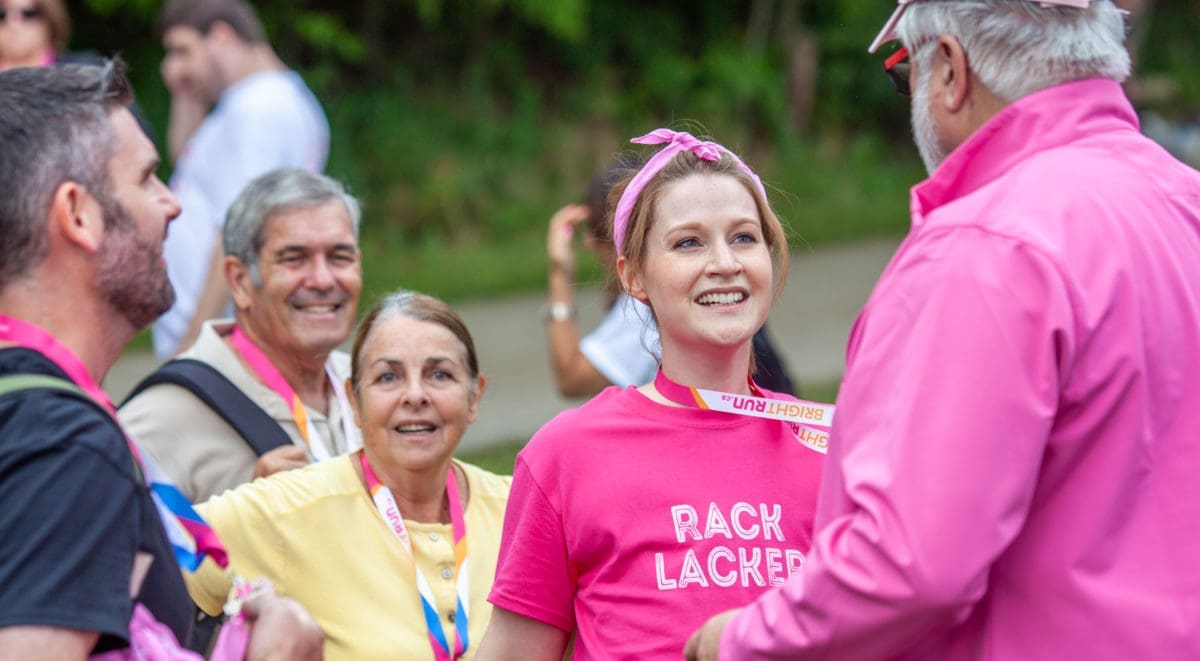 RIGHT Run is all about supporting research. It is through research that advances in the diagnosis, prevention, treatment and care of breast cancer are made.
Every dollar that our BRIGHT Run participants raise supports breast cancer research at Hamilton's Juravinski Cancer Centre and the Escarpment Cancer Research Institute, a joint organization of Hamilton Health Sciences and McMaster University. This research has the potential to impact the lives of thousands of local breast cancer patients.
In 2022, an estimated 28,600 women were diagnosed with breast cancer in Canada with about 78 diagnoses daily. This is about a quarter of all cancers diagnosed in women. In addition, approximately 270 men were diagnosed with breast cancer in Canada last year, representing just under one percent of all breast cancer diagnosis. There have been many improvements in the treatment and care of patients with breast cancer, but much more needs to be done. Advances come from the knowledge gained through research.
Applications for BRIGHT Run grants go through a rigorous process to ensure funds are spent well. Each year, applications are received by a committee of medical professionals, independent research and education specialists, who make recommendations to a Hamilton Health Sciences adjudication committee that awards the funds.
The applications are reviewed by specialized, independent research and education panels, which make recommendations to a committee that awards the funds.
BRIGHT Run funding is important because there is enormous competition for research funds across the country. It can be difficult to attain funding for smaller studies, which often form the groundwork for larger projects.
BRIGHT Run has funded 17 breast cancer research projects, which may lead to larger studies. The average grant is between $50,000 – $100,000. The studies which have been funded to date are showcased here.
In 2010, BRIGHT funds purchased an ultrasound machine, which now operates in the BRIGHT Run suite of the CIBC Breast Assessment Centre. As well, in 2021 BRIGHT funds supported the endowed BRIGHT Run Breast Cancer Learning Health System Chair at McMaster University. In September 2022 BRIGHT Run partnered with the Jesin-Neuberger Foundation to establish the PYNK Program at the Juravinski Cancer Centre, the third of its kind in Ontario. PYNK focuses on addressing the unique needs of patients under 40, diagnosed with breast cancer.
We are grateful for the groundswell of community support for BRIGHT. More than $5.5 million has been raised since the first BRIGHT Run in 2008.
Stay up to date
On all BRIGHT Run news and events. Sign up now to receive the monthly eNewsletter!