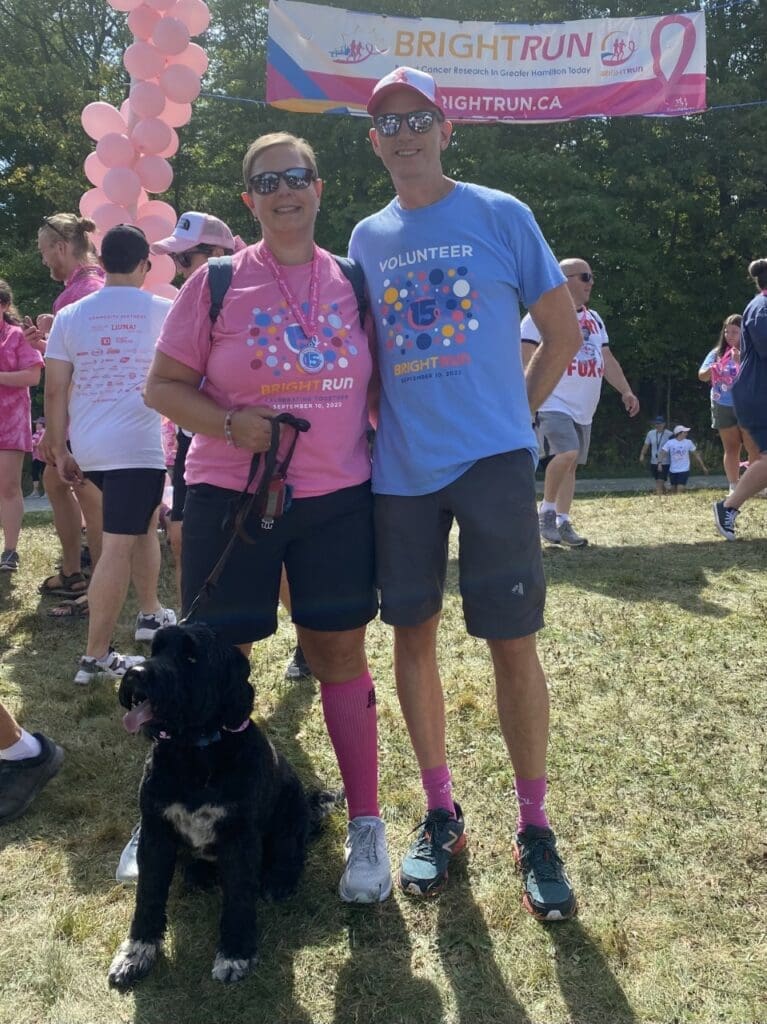 Lisa Balsdon, breast cancer survivor and long-time member of The Linear Accelerators
"I was so happy to be back in person for the 15th BRIGHT Run. As I drove into the conservation area, I couldn't help but feel the phenomenal weather was a sure sign of impending success. 
It was great to see an army of energetic volunteers in blue shirts. As a survivor, I look to the sea of pink shirts for inspiration and hope for the future. Pink shirts surrounded by a family of white shirts – these are the images that form the fabric BRIGHT Run, the community that makes BRIGHT Run relevant and the reason we work so hard to raise funds for breast cancer research.
To have raised over half a million dollars this year proves BRIGHT Run is relevant and so very important to our community."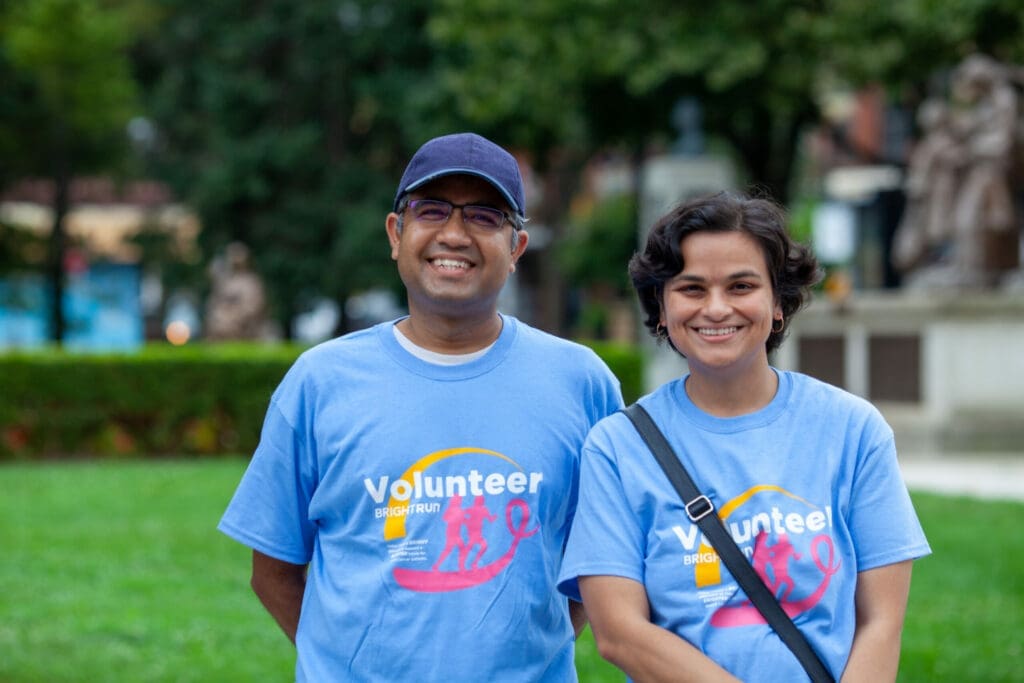 Dr. Ashirbani Saha, first holder of the BRIGHT Run Breast Cancer Learning Health System Chair and captain of BRIGHT team Say Aye for AI
"BRIGHT Run 2022 seemed to me to be a grand celebration of the indomitable spirit of so many people. Such enthusiasm for supporting research continues to motivate me to do better as a researcher."   
Dr. Dibyendu Mukherjee, research scientist, Ashirbani's husband, and a member of BRIGHT team Say Aye for AI
"BRIGHT Run 2022 was my first in-person BRIGHT Run. I was overwhelmed by the enormity of the event and the massive positive response of the contributors. 
The in-person event has compelled me to be more proactive to make more contributions to the following events. Hoping to see its fulfilment through continual novel breast cancer research in Hamilton."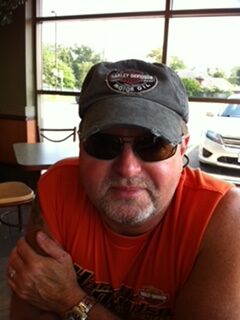 Alan Carnegie, long-time BRIGHT Run volunteer, who travelled from his home in Mexico to attend BRIGHT 2022
"My involvement in BRIGHT Run started by wanting to support Nancy McMillan. Once I was involved and saw the passion of all those involved, I stuck with this wonderful cause.  
I have been asked why I returned from Mexico this year to volunteer with BRIGHT Run. It's very simple – it's the passion that this organization has, the dedication from the volunteers to the doctors, the nurses, all those involved and the promise I made to return this year and support BRIGHT Run.
Returning for the event was in some ways selfish because I love being surrounded by many, many wonderfully dedicated people supporting this cause. 
The fact that all the monies raised by participants stays in Hamilton and 100% of the dollars go directly to research is also a driving force."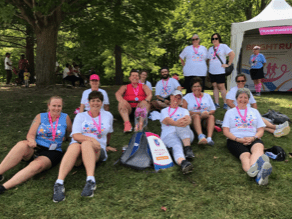 Lisa Rudd-Scott, long-time BRIGHT Run volunteer and co-captain of BRIGHT team The Girls of WW
"It felt wonderful to have an in-person event after two years of virtual. The energy and love of this year's event did not go unnoticed. 
I felt so supported by my team, family and friends. I was overwhelmed as I walked up to the trail centre and saw all the posters with the teams, years of support and dollars raised. I felt pride to see my little Weight Watchers team on the posters.
I feel so privileged to be part of such a successful group of BRIGHT Run organizers. 
The best things about the day included sharing stories, networking, supporting each other and, of course, surpassing our fundraising goal!"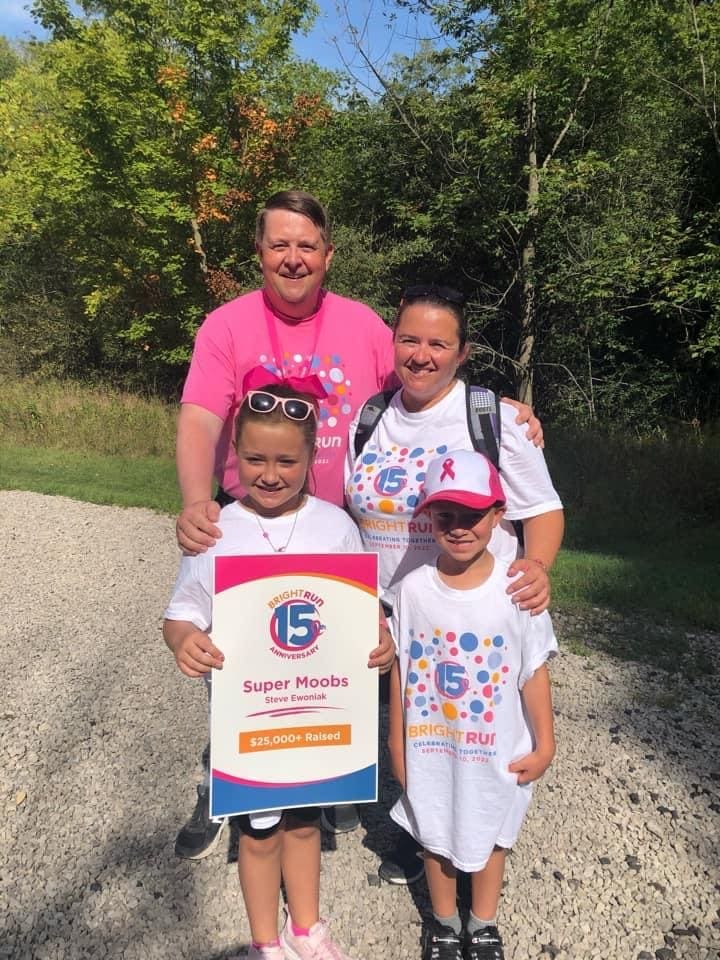 Steve Ewoniak, breast cancer survivor and captain of BRIGHT team SuperMoobs   
"It was my family's first in-person BRIGHT Run and it was an incredible day for us. 
It was astonishing to see so many people who had gone through the same breast cancer journey as we had.
We were pleased that the event went so incredibly well.  As a group, BRIGHT folks had successfully raised over $500,000 for local breast cancer research. When the results were revealed – so high above our goal – we realized that our impact as a breast cancer community stemmed from having so many friends, family, and coworkers supporting our efforts.
It wasn't just almost 1,200 people walking, we had thousands more walking with us in spirit!  We are already looking forward to the next BRIGHT Run."