Travis Singleton is cycling across Canada to raise money for BRIGHT Run 2021.
From lovely Point Pleasant Park in Halifax to equally lovely Stanley Park in Vancouver, Travis plans to cover 6,674 km by Sept. 10.
On top of that, he's going to run an additional 5 km on Sept. 11, when we will all be celebrating BRIGHT Run!My goal is to raise $1 for every kilometre I cycle for a total of $6,674 or more," said Travis, 48, whose wife Susan was diagnosed with breast cancer in 2016. "It's a lofty goal …but I've seen the people I know fight and win, so I know I can do it.
The trip will be virtual, but the cycling is not. Travis plans to peddle 32 km each day, either indoors in terrible weather or outdoors on the trails around Dundas and Hamilton.
Travis and Susan first participated in the BRIGHT Run in 2016, as Susan led a team only weeks after she finished 21 radiation treatments. Before that, she had surgery and eight chemotherapy treatments. She remains cancer-free.
The couple's participation in BRIGHT was interrupted by a move to Nova Scotia. They landed back in Dundas, with their daughter Georgia, now 12, in October 2019.
Susan plans to start her team again this year for BRIGHT 2021. Travis will participate with the team on event day, on top of his cross-Canada cycling trip.
Travis began mountain biking with a friend last summer and enjoyed the trails in Dundas and Hamilton. As the colder weather set in, he knew he wanted to stay active over the winter and purchased a virtual trainer to use his bike indoors.
In January, I started seeing other virtual challenge rides being advertised but nothing spoke to me," Travis said. "I was cycling almost every day indoors and like the idea of completing an across-Canada challenge.

Once I decided what I had in mind, I reached out to (event chair) Nancy McMillan to get her thoughts on the idea," he said. "She loved it!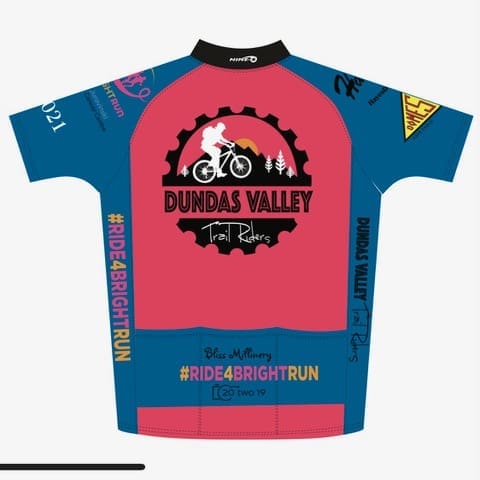 Travis has gathered several sponsors to help pay for the creation of a limited-edition mountain bike cycling jersey to raise funds in a number of ways:
The donor who makes the highest donation to his fundraising effort will receive a jersey.
For every $25 donation, the donor will receive one entry into a draw for one of the jerseys.
You can pre-order a jersey for $90 by contacting Travis directly at travis.singleton@gmail.com . Net proceeds will be donated to BRIGHT Run.
Cross your fingers that there are a couple of jersey left to purchase in something close to your size before they sell out!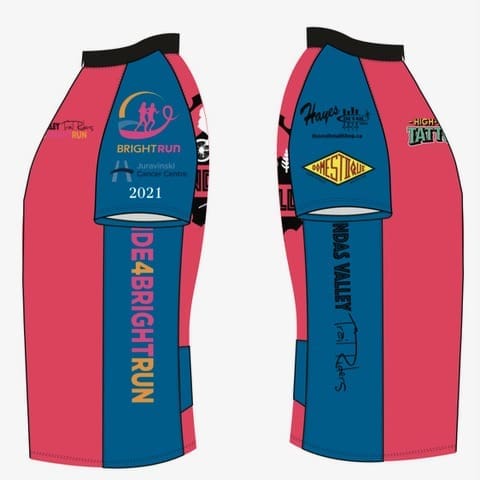 Travis speaks highly of the businesses that have joined his virtual trip as sponsors:
High Five Tattoo, Hamilton
Hayes Detail Shop, Dundas
Café Domestique, Dundas
Bliss Millinery, Dundas (Susan's hat-making business)
20two19Photography, Dundas (Travis's photography business)
You can follow Travis's progress across Canada on My Virtual Mission Map at:
www.myvirtualmission.com/missions/95454/bright-run-across-canada
And you can make a donation on his personal page:
http://events.hamiltonhealth.ca/goto/DVTR